Local Moving
For local moves within the same city or town, we offer affordable full-service hourly rates.
Flat Rate Moving
For local moves of more than 25 miles, we always recommend an affordable flat rate move.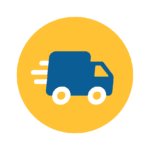 Long Distance Moving
For moves outside of New York, we offer a guaranteed price for your long distance move with delivery within 1-3 days.*
Labor Only Moving
Whether you need help unpacking your moving truck or just want someone to do the heavy lifting, save money and time with moving help from friendly, local professionals.