Let's Get Moving in 3 Easy Steps
Local Moving
For local moves within the same city or town, we offer affordable full-service hourly rates.
Flat Rate Moving
For local moves of more than 25 miles, we always recommend an affordable flat rate move.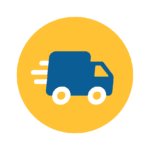 Long Distance Moving
For moves outside of New York, we offer a guaranteed price for your long distance move with delivery within 1-3 days.*
Labor Only Moving
Whether you need help unpacking your moving truck or just want someone to do the heavy lifting, save money and time with moving help from friendly, local professionals.
New York's Top-Rated Moving Company in the Hudson Valley
Your Hometown Mover, located in New Paltz, NY, has helped thousands of Hudson Valley residents facilitate a hassle-free move across the region.
As a professional, licensed, and fully insured moving company in the Hudson Valley, Your Hometown Mover offers high-quality full-service moving and storage, often at half the cost of the national van lines.
Our team is fast, punctual, and committed to creating a hands-free, no-problems move for you and your family when you move anywhere in the Hudson Valley.
All-inclusive Hudson Valley Movers
Affordable and included in every move we make:
Our full-service & labor-only moving rates are the best deal in Hudson Valley. We will assign a personal move coordinator who will work directly with you to calculate the most efficient and effective crew size for your upcoming relocation.
BEST PRICE GUARANTEE
We will beat any licensed and insured company located in the Hudson Valley.
Easy Claims Process
If there is an issue with your move, we will be there to make it right.
$49 Refundable Deposit
Book your move and secure your move date with a low, refundable deposit.
Licensed & Insured
We are licensed and insured to move your household goods nationwide.
200+ 5-Star Reviews
We have the most 5-star reviews of any moving company in the Hudson Valley.
A+ Rating on BBB
As a BBB Accredited Business, we operate with integrity and excellence.
Best Movers in the Hudson Valley
Stretching from Westchester County north to Albany County, the Hudson River Valley is home to the most scenic country in eastern New York State.  Just over one million residents call this region home, though thousands more visit every year to tour the natural landscapes and rich history.
The Hudson Valley is divided into three main regions — Upper, Middle, and Lower.  The Hudson River divides this region, running past cities and towns like Troy, Hudson, Catskill, Kingston, Poughkeepsie, and Newburgh all the way to Yonkers.
As a company, Your Hometown Mover has been serving this region since 2013.  Our professional movers have the years of experience and knowhow required to make your moving experience simple and easy.
We offer full-service moving and packing services — including packing, unpacking, crating, and more — to help you prepare for your move date.
Whether you're planning a long-distance move from Poughkeepsie to Schenectady or need an extra pair of hands to move into a new home across town, our team will be there to help you get the job done. We also offer commercial services if you're moving your business or office space. When you need a moving company in the Hudson Valley, you can count on Your Hometown Mover.
Contact our team for a free moving estimate to learn more about our pricing and service options.
Tuesday
9:00 AM - 5:00 PM
Wednesday
9:00 AM - 5:00 PM
Thursday
9:00 AM - 5:00 PM
Saturday
9:00 AM - 5:00 PM