About
Your Hometown Mover
Let's Get Moving in 3 Easy Steps
Local Moving
For local moves within the same city or town, we offer affordable full-service hourly rates.
Flat Rate Moving
For local moves of more than 25 miles, we always recommend an affordable flat rate move.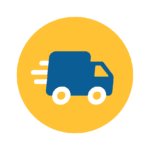 Long Distance Moving
For moves outside of New York, we offer a guaranteed price for your long distance move with delivery within 1-3 days.*
Labor Only Moving
Whether you need help unpacking your moving truck or just want someone to do the heavy lifting, save money and time with moving help from friendly, local professionals.
Your Hometown Mover is a family-owned and operated business located in New Paltz, New York, right in the beautiful Hudson River Valley's heart. As a professionally licensed and insured local moving company, Your Hometown Mover offers high-quality, full-service moving and storage at half the major van lines' cost. We are so committed to proving we are the best local mover in the Hudson Valley that we offer a PRICE MATCH GUARANTEE.
At Your Hometown Mover, we owe our existence to all the dishonest and disreputable movers out there. See, our founder has competed with these companies for decades. They'd hire anyone with muscles and ensure they'd make a profit by charging the customer just a little bit extra at the delivery.
Jake, our founder, was disgusted by the practice and swore that he'd start an honest moving company capable of achieving the highest quality standard our customers deserved when he had the means. That's us! We pride ourselves on doing things the right way. We offer local and long-distance moving services in New York and South Florida. We offer pricing that is clear from the get-go, and we refuse to cut corners. Choose from either an all-inclusive binding price or an all-inclusive hourly rate. Don't let the large national van lines overcharge you or fraudulent unlicensed movers bait switch you. Hire a reputable local mover such as Your Hometown Mover for your moving and packing needs.
Your Hometown Mover has been a family-owned business since 2013, but our roots go back to 1985 with our family's first moving company located in California. As a second-generation family-owned moving company, our customers are elated to hear our story and receive the best outcomes that generations of industry experience provide. Our founder, Jake, has been operating Your Hometown Mover with his two sisters, Kate and Jennifer, since 2013. We recently opened our sister location in sunny South Florida and look forward to expanding into new markets as moving demand rises.
A breaker of barriers in the areas of residential and commercial moving services, our founder, Jake Freedman, was born and raised in the Hudson Valley region of New York. As a second-generation mover, Jake was groomed for the moving industry working for his father's moving company, Moving America, in Tivoli, NY. After years of working within the family business, Jake moved on to work for the largest moving companies in the nation as an account executive for United Van Lines and Graebel Van Lines. Finally, after years of exceeding customer expectations and company sales goals, Jake decided he had a better way and began utilizing all the industry experience gained in the NYC and NJ markets by establishing Your Hometown Mover LLC in 2013. Since its inception, Your Hometown Mover has performed 1,000's of local and long-distance moves with a 99% claim-free move and 95% satisfaction rating. We are proud to be the Hudson Valleys preferred, and most trusted local mover.
Kate Freedman, Co-Founder
Kate Freedman manages the day to day functions of sales and customer service. She is a proven asset with a wealth of knowledge far beyond her years. As a co-founder of Your Hometown Mover, Kate's primary focus is on our customers, being sure they are informed and happy. Moving can be stressful, you will stress less when you know the voice on the other end of the phone is a move expert with all the answers. Family owned and operated, let our family move yours!
Jennifer Freedman, Co-Founder
Jennifer Freedman demonstrates exceptional sales skills, having been Senior Management in Hotels Sales for the last ten years. She understands and listens to every client's unique needs and delivers customer-focused solutions. Jennifer understands that each client has particular concerns and goals regarding their move and works very hard to take on the stress of "what keeps you up at night" so that our clients can focus on what matters most.
Booking your move is as easy as 1, 2, 3…
Step 1
Get a Quote
Get a quote by calling us at (845) Move-Now or visiting us online for your free instant move estimate.
Step 2
Visit Your Account Page
Moving can be complicated, so we make it easy with a user-friendly account page personalized for your move.
Step 3
Book Your Move
Click and confirm your move details from your computer or mobile device, and your move is booked. That was easy!