Let's Get Moving in 3 Easy Steps
Local Moving
For local moves within the same city or town, we offer affordable full-service hourly rates.
Flat Rate Moving
For local moves of more than 25 miles, we always recommend an affordable flat rate move.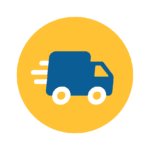 Long Distance Moving
For moves outside of New York, we offer a guaranteed price for your long distance move with delivery within 1-3 days.*
Labor Only Moving
Whether you need help unpacking your moving truck or just want someone to do the heavy lifting, save money and time with moving help from friendly, local professionals.
Poughkeepsie Moving Company
Whether you're moving from or to Poughkeepsie, NY, we're the moving company for you. First of all, we are a locally-grown small business—our headquarters are in Poughkeepsie, NY, and we know the ins and outs of moving in our community. We're a family-owned and -operated company, and we're committed to making every move go as smoothly as possible. As licensed and insured movers, we give every renter, homeowner, or business owner exactly what they need during this stressful time: peace of mind. When you work with Your Hometown Mover, you'll never have to wonder if your things made it to the new place intact. We always ensure your belongings arrive in the same condition they left in.
We provide residential and commercial moving services including homes, condos, apartments, offices, and other commercial properties. We offer hourly and flat rate options, and our various services allow you to customize your moving plan to make your life easier. If you want to work with the best moving company in Poughkeepsie, Your Hometown Mover has got your back. 
All-inclusive Poughkeepsie Movers
Affordable and included in every move we make:
Our full-service & labor-only moving rates are the best deal in Hudson Valley. We will assign a personal move coordinator who will work directly with you to calculate the most efficient and effective crew size for your upcoming relocation.
BEST PRICE GUARANTEE
We will beat any licensed and insured company located in the Hudson Valley.
Easy Claims Process
If there was an issue with your move, we will be there to make it right.
$49 Refundable Deposit
Book your move and secure your move date with a super low refundable deposit.
Licensed & Insured
We are licensed and insured to move your home nationwide.
A+ Rating on BBB
As a BBB Accredited Business, we are listed as a trustworthy business that operates with integrity and excellence.
Local Movers in Poughkeepsie, NY
The historic city of Poughkeepsie, New York was originally purchased from native Americans in 1686 by Robert Sanders. Located on east side of Hudson River, Midway between Albany and New York City, Poughkeepsie was known as "Queen city of the hudson". Over 300 years later, Poughkeepsie is now home to over 30,000 residents as well as the Mid-Hudson Bridge, Marist Collage, Vassar College and many other landmarks.
With our high-quality moving services, we also offer affordability you won't find with nationally known moving companies. We're so sure about our lower costs that we offer a Price Match Guarantee.  Whether you need local or long-distance moving, moving labor, or storage services, Your Hometown Mover is your trustworthy partner in Poughkeepsie, NY. Contact us today to get a quote. 
Tuesday
9:00 AM - 5:00 PM
Wednesday
9:00 AM - 5:00 PM
Thursday
9:00 AM - 5:00 PM
Saturday
9:00 AM - 5:00 PM