Let's Get Moving in 3 Easy Steps
Local Moving
For local moves within the same city or town, we offer affordable full-service hourly rates.
Flat Rate Moving
For local moves of more than 25 miles, we always recommend an affordable flat rate move.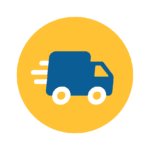 Long Distance Moving
For moves outside of New York, we offer a guaranteed price for your long distance move with delivery within 1-3 days.*
Labor Only Moving
Whether you need help unpacking your moving truck or just want someone to do the heavy lifting, save money and time with moving help from friendly, local professionals.
All-inclusive Fishkill Movers
BEST PRICE GUARANTEE
We will beat any licensed and insured company located in the Hudson Valley.
Easy Claims Process
If there was an issue with your move, we will be there to make it right.
$49 Refundable Deposit
Book your move and secure your move date with a super low refundable deposit.
Licensed & Insured
We are licensed and insured to move your home nationwide.
A+ Rating on BBB
As a BBB Accredited Business, we are listed as a trustworthy business that operates with integrity and excellence.
Local Movers in Fishkill, NY
Your Hometown Mover is the go-to moving company in Fishkill, NY. Our comprehensive services include everything from hourly and flat-rate moving to packing and storage. If you're relocating either to or from Fishkill, we want to be your one-stop shop for all your moving needs. We aim to make every move as seamless as possible, so we ask all the right questions to determine the best plan for a stress-free move. Whether this is your first major relocation or you're an old pro, our expertise allows you to worry less about your belongings during the transition.
Fishkill is located in the former territory of the Wappinger people. It was part of the Rombout Patent granted to Francis Rombouts, Gulian VerPlanck, and Stephanus Van Cortlandt of New Amsterdam in 1685. The name "Fishkill" evolved from two Dutch words, vis (fish) and kil (stream or creek). In 1714, Dutch immigrants settled in the area. The village of Fishkill was a significant crossroads in the overland transportation network in the 18th and 19th centuries. The Kings Highway, connecting Albany to New York City, intersected with a major overland route from New England to the Hudson River. Among the first to occupy the land now within the village limits were Johannes Ter Boss and Henry Rosecrance.
Your Hometown Mover of Fishkill, NY is proud to provide local residential and commercial moving service to the city of Fishkill, NY and the surrounding communities. We understand that the public has heard total horror stories about moving companies and the people of Fishkill deserve better. By not cuttings corner and by maintaining high moral and ethical standards, we believe that we can make your move a positive experience, as it should be.
If you're ready to start planning your move, reach out to our helpful team to discuss our services. Once you work with our moving company in Fishkill, you'll never work with anyone else. 
Tuesday
9:00 AM - 5:00 PM
Wednesday
9:00 AM - 5:00 PM
Thursday
9:00 AM - 5:00 PM
Saturday
9:00 AM - 5:00 PM