Let's Get Moving in 3 Easy Steps
Local Moving
For local moves within the same city or town, we offer affordable full-service hourly rates.
Flat Rate Moving
For local moves of more than 25 miles, we always recommend an affordable flat rate move.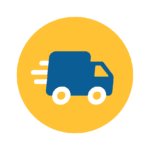 Long Distance Moving
For moves outside of New York, we offer a guaranteed price for your long distance move with delivery within 1-3 days.*
Labor Only Moving
Whether you need help unpacking your moving truck or just want someone to do the heavy lifting, save money and time with moving help from friendly, local professionals.
Somehow we made moving even easier with Move Now, Pay Later!
It's the only payment option that gives you:
3, 6 & 12 Monthly Installments
No Interest on purchases if paid in full in 6 months.
Here's how it works:
• If your move is $250-$10,000, fill out a short online application to see if you're eligible.
• If you're approved and accept, you'll get a digital card to complete your payment.
• Choose the monthly installment plan that works for your budget. See the costs up front, with total clarity.
Move Now, Pay Later Installments lets you break up payments for a purchase.
You now have a new option to pay over time. This is offered through Move Now, Pay Later Installments and lets eligible customers pay for purchases in 3, 6, or 12 monthly payments with rates from 0-30% APR.*
LEARN MORE
*All loans through the Installments program are issued by Celtic Bank, a Utah-Chartered Industrial Bank, Member FDIC, located in Salt Lake City, UT. Merchant is an independent third party from Celtic Bank, Square, Inc., and Square Capital, LLC. APR is fixed and ranges from 0-30%. Actual terms will be based on creditworthiness and other factors. For example, a 12 month $2,100.00 loan with 15.00% APR would have 11 monthly payments of $190.00 and 1 payment of $184.07. Loans are subject to credit approval. Call for eligibility and program information.
We will beat any licensed and insured Hudson Valley moving company's flat rate price by 5%
We Made Moving Affordable for You
Move Now, Pay Later | Move Financing | Your Hometown Mover
Your Hometown Mover knows how expensive moving can be. That is why we are passionate about helping movers get 
affordable moving and shipping
 service. And so, we created "Move Now, Pay Later" for those who need a quality moving service on a budget. Check out our services for more information or contact us now and let us discuss your moving needs.
Booking your move is as easy as 1, 2, 3…
Step 1
Get a Quote
Get a quote by calling us at (845) Move-Now or visiting us online for your free instant move estimate.
Step 2
Visit Your Account Page
Moving can be complicated, so we make it easy with a user-friendly account page personalized for your move.
Step 3
Book Your Move
Click and confirm your move details from your computer or mobile device, and your move is booked. That was easy!