Let's Get Moving in 3 Easy Steps
Local Moving
For local moves within the same city or town, we offer affordable full-service hourly rates.
Flat Rate Moving
For local moves of more than 25 miles, we always recommend an affordable flat rate move.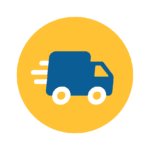 Long Distance Moving
For moves outside of New York, we offer a guaranteed price for your long distance move with delivery within 1-3 days.*
Labor Only Moving
Whether you need help unpacking your moving truck or just want someone to do the heavy lifting, save money and time with moving help from friendly, local professionals.
Poughkeepsie Moving Company
All-inclusive Poughkeepsie Movers
BEST PRICE GUARANTEE
We will beat any licensed and insured company located in the Hudson Valley.
Easy Claims Process
If there was an issue with your move, we will be there to make it right.
$49 Refundable Deposit
Book your move and secure your move date with a super low refundable deposit.
Licensed & Insured
We are licensed and insured to move your home nationwide.
200+ 5-Star Reviews
We have the most 5-star reviews of any moving company in the Hudson Valley.
A+ Rating on BBB
As a BBB Accredited Business, we are listed as a trustworthy business that operates with integrity and excellence.
Local Movers in Poughkeepsie, NY
The historic city of Poughkeepsie, New York was originally purchased from native Americans in 1686 by Robert Sanders. Located on east side of Hudson River, Midway between Albany and New York City, Poughkeepsie was known as "Queen city of the hudson". Over 300 years later, Poughkeepsie is now home to over 30,000 residents as well as the Mid-Hudson Bridge, Marist Collage, Vassar College and many other landmarks.
Your Hometown Mover of Poughkeepsie, NY is proud to provide local residential and commercial moving service to the city of Poughkeepsie, NY and the surrounding communities. We understand that the public has heard total horror stories about moving companies and the people of Poughkeepsie deserve better moving company. By not cuttings corner and by maintaining high moral and ethical standards, we believe that we can make your move a positive experience, as it should be.
Your Hometown Mover
92 S Ohioville Rd
New Paltz
12561
Tuesday
9:00 AM - 5:00 PM
Wednesday
9:00 AM - 5:00 PM
Thursday
9:00 AM - 5:00 PM
Saturday
9:00 AM - 5:00 PM