Let's Get Moving in 3 Easy Steps
Local Moving
For local moves within the same city or town, we offer affordable full-service hourly rates.
Flat Rate Moving
For local moves of more than 25 miles, we always recommend an affordable flat rate move.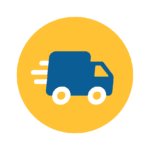 Long Distance Moving
For moves outside of New York, we offer a guaranteed price for your long distance move with delivery within 1-3 days.*
Labor Only Moving
Whether you need help unpacking your moving truck or just want someone to do the heavy lifting, save money and time with moving help from friendly, local professionals.
Moving and Storage Company
Your Hometown Mover Moving and Storage is a licensed, family-owned, and operated local business located in New Paltz, New York. We provide local and long-distance moving, packing, crating, and storage services. When you're relocating the items that mean the most to you, you can trust Your Hometown Mover Moving and Storage will handle them with a tender touch every step of the way.
​Our success comes from our ability to cater to the specific needs of our customers. Every move is important. We ensure that your move runs smoothly, efficiently and that your property arrives safely to its new location.
​Call today to schedule your free in-home estimate. Our team will provide you with an affordable quote based on the volume and dimensions of the items that are being relocated and the number of movers that will be required. Your Hometown Mover can also provide a flat rate during the quoting process.
All-inclusive Moving and Storage
BEST PRICE GUARANTEE
We will beat any licensed and insured company located in the Hudson Valley.
Easy Claims Process
If there was an issue with your move, we will be there to make it right.
$49 Refundable Deposit
Book your move and secure your move date with a super low refundable deposit.
Licensed & Insured
We are licensed and insured to move your home nationwide.
200+ 5-Star Reviews
We have the most 5-star reviews of any moving company in the Hudson Valley.
A+ Rating on BBB
As a BBB Accredited Business, we are listed as a trustworthy business that operates with integrity and excellence.
Tuesday
9:00 AM - 5:00 PM
Wednesday
9:00 AM - 5:00 PM
Thursday
9:00 AM - 5:00 PM
Saturday
9:00 AM - 5:00 PM