Let's Get Moving in 3 Easy Steps
Local Moving
For local moves within the same city or town, we offer affordable full-service hourly rates.
Flat Rate Moving
For local moves of more than 25 miles, we always recommend an affordable flat rate move.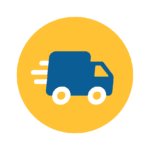 Long Distance Moving
For moves outside of New York, we offer a guaranteed price for your long distance move with delivery within 1-3 days.*
Labor Only Moving
Whether you need help unpacking your moving truck or just want someone to do the heavy lifting, save money and time with moving help from friendly, local professionals.
Our Hourly Moving Services Include:
Our hourly moves are charged by the hour, for however long your move takes. We can do as little or as much as you want. Whether you require a basic studio apartment relocation, or a comprehensive full-service residential move with packing, trust in our qualified moving experts to accommodate your household relocation.
Hourly services are perfect if you're willing to do some of the labor yourself and just need extra muscle for those heavier items. When you book our qualified movers by the hour, we'll spend that time however you prefer—whether that's loading, unloading, packing, or unpacking. We're an hourly moving company you can trust to deliver high-quality work you won't have to worry about.
We've been in business since 2013, and we proudly offer family-owned services you can depend on. Whether you're moving locally, out-of-state, or long distances, we treat every job as if we were moving our own possessions. Plus, we're fully licensed and insured, giving you even greater peace of mind. We take care of everything, so you don't have to.
When you schedule our hourly moving services in New York, here are some of the perks you can expect to receive:
No Hidden Fees
Our Hourly rates are all-inclusive, meaning no hidden fees. We charge by the hour, for however long your move takes.
Pickup and Delivery
Don't touch a thing. Our movers will load, transport, and unload your precious items. Feel free to sit back and watch.
Disassembly & Assembly
Our movers offer disassembly and reassembly of furniture such as beds, dining tables, and dresser mirrors.
We will beat any licensed and insured Hudson Valley moving company's flat rate price by 5%
Liability Coverage
Flat rate full-service moves include FREE basic liability coverage up to 60 cents per pound or choose to upgrade to comprehensive liability coverage.
Premium Furniture Blankets
Properly protecting your precious furniture requires thick moving blankets and rubber bands. Upholstered furniture is shrinkwrapped for best protection.
Corner & Floor Protection
Your Hometown Movers protects your home using padded door jam protectors, door blankets, and neoprene floor runners.
Booking your move is as easy as 1, 2, 3…
Step 1
Get a Quote
Get a quote by calling us at (845) Move-Now or visiting us online for your free instant move estimate.
Step 2
Visit Your Account Page
Moving can be complicated, so we make it easy with a user-friendly account page personalized for your move.
Step 3
Book Your Move
Click and confirm your move details from your computer or mobile device, and your move is booked. That was easy!
TRUST YOUR HOME OR OFFICE MOVE TO YOUR HOMETOWN MOVER, THE HUDSON VALLEY'S BEST LOCAL, IN-STATE AND LONG DISTANCE MOVERS!
Your Hometown Mover Moving & Storage is located in the heart of the beautiful Hudson River Valley region of New York and we are proud to offer outstanding local and long distance moving services to and from New York City, Poughkeepsie, New Paltz and surrounding regions. Your Hometown Mover also offers dedicated trips to Florida as well as expedited long distance moving services to all points along the east coast. Call for details now!
Affordable and included in every move we make:
Our full-service and labor-only moving rates are the best deal in Hudson Valley. We will assign a personal move coordinator who will work directly with you to calculate the most efficient and effective crew size for your upcoming relocation.
New York's Top Rated Moving Company
We Load, Haul, and Do It All!
of our moves started on time and were completed as scheduled.
5 Star Customer Reviews on Google, Yelp and Facebook.
of our moves went without a single complaint or claim for damage.