Let's Get Moving in 3 Easy Steps
Local Moving
For local moves within the same city or town, we offer affordable full-service hourly rates.
Flat Rate Moving
For local moves of more than 25 miles, we always recommend an affordable flat rate move.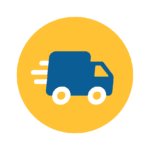 Long Distance Moving
For moves outside of New York, we offer a guaranteed price for your long distance move with delivery within 1-3 days.*
Labor Only Moving
Whether you need help unpacking your moving truck or just want someone to do the heavy lifting, save money and time with moving help from friendly, local professionals.
Your Hometown Mover has been a resource thousands of Hudson Valley Residents since 2013. As a leader in all things moving and storage, our owner Jake has taught the expert techniques and successful business methods of the moving industry to hundreds of employees. Your Hometown Mover has been an educational resource for so many looking to move themselves and professional movers looking to improve their techniques.
Check out our useful moving guides and learn what it takes to be a true professional mover whether you move yourself or ultimately hire us!
– Notice –
 Our moving videos are for entertainment purposes only. We like to be creative and find the humor in things so please view this through that lens. Check back periodically to see our newest videos.
Booking your move is as easy as 1, 2, 3…
Step 1
Get a Quote
Get a quote by calling us at (845) Move-Now or visiting us online for your free instant move estimate.
Step 2
Visit Your Account Page
Moving can be complicated, so we make it easy with a user-friendly account page personalized for your move.
Step 3
Book Your Move
Click and confirm your move details from your computer or mobile device, and your move is booked. That was easy!