Let's Get Moving in 3 Easy Steps
Local Moving
For local moves within the same city or town, we offer affordable full-service hourly rates.
Flat Rate Moving
For local moves of more than 25 miles, we always recommend an affordable flat rate move.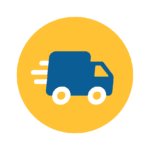 Long Distance Moving
For moves outside of New York, we offer a guaranteed price for your long distance move with delivery within 1-3 days.*
Labor Only Moving
Whether you need help unpacking your moving truck or just want someone to do the heavy lifting, save money and time with moving help from friendly, local professionals.
All-inclusive Kingston Movers
Affordable and included in every move we make:
Our full-service & labor-only moving rates are the best deal in Hudson Valley. We will assign a personal move coordinator who will work directly with you to calculate the most efficient and effective crew size for your upcoming relocation.
BEST PRICE GUARANTEE
We will beat any licensed and insured company located in the Hudson Valley.
Easy Claims Process
If there was an issue with your move, we will be there to make it right.
$49 Refundable Deposit
Book your move and secure your move date with a super low refundable deposit.
Licensed & Insured
We are licensed and insured to move your home nationwide.
200+ 5-Star Reviews
We have the most 5-star reviews of any moving company in the Hudson Valley.
A+ Rating on BBB
As a BBB Accredited Business, we are listed as a trustworthy business that operates with integrity and excellence.
Local Movers in Kingston, NY
Whether you're moving from or to Kingston, NY, we're the moving company for you. First of all, we are a locally-grown small business—our headquarters are based just 15 miles away in nearby New Paltz, NY, and we know the ins and outs of moving in our community.
Your Hometown Mover is proud to offer the most comprehensive Kingston moving services in the area. We have expertise in both residential and commercial moving, and our commitment to each and every job has resulted in unbeatable customer satisfaction. Not only are we better than the major van lines, but our services often cost less—and we'll back that up with our Price Match Guarantee. We're professionally licensed and insured, and we're also family-owned and -operated with years of industry experience. We aim to provide customers with moving services they can trust—we're the most reliable moving company you'll find in Kingston, NY. 
There are so many things to organize and plan when you're in the middle of a move, and we want to help in any way we can. Whether you need an all-inclusive moving plan with every detail covered or you're simply looking for some extra hands to help you pack up and unload, we'll work with you to make sure you get exactly what you need. With our extensive experience, we've seen it all. We know every potential obstacle that may arise, and we have realistic expectations for how long a job might take. Our passionate approach and attention to detail will give you some much-needed peace of mind during the moving process. 
To start planning your upcoming relocation, contact us today to get the ball rolling. With our Kingston moving services, you can focus on all the other details of your move and leave transporting your belongings in our capable hands. 
Tuesday
9:00 AM - 5:00 PM
Wednesday
9:00 AM - 5:00 PM
Thursday
9:00 AM - 5:00 PM
Saturday
9:00 AM - 5:00 PM
Which Part of Kingston Are You Moving To or From?
The City of Kingston is divided into three main sections: Uptown Kingston (also known as the Stockade District), Midtown Kingston, and Downtown Kingston (also known as the Rondout). The city's main thoroughfare is called Broadway; it runs through Midtown Kingston to connect the other two parts of the city. The city connects to major roads like Route 28, Route 209, Route 9W, the Thruway/I-87, and is near the Kingston-Rhinecliff Bridge and Kingston-Port Ewen Suspension Bridge. There's also a larger area around Kingston that is within the 12401 area code, but aren't in the City of Kingston. Some of these nearby municipalities include East Kingston, Eddyville, parts of Esopus, Hillside, Hurley, Lincoln Park, Marbletown, Rosendale, Saint Remy the Town of Kingston, and parts of the Town of Ulster.
How Should You Get

Ready for Your

Move in Kingston, NY?
When you're getting ready to move to or from Kingston, you probably are going to need a few things:
There are a few places to get these moving supplies in the Kingston area:
Or you could just let us do it for you. We offer partial and full packing and unpacking services as part of our moving packages.
Kingston is renowned for its arts community. There's the Midtown Arts District, the O+ Festival has produced dozens of murals across the town, and there's a famous claim that it has more artists per capita than New York City.
Whether you're moving a valuable art collection, or are a working artist on a tight budget looking for minimal disruption, we've provided some tips on our site on how to pack paintings, prints, sculptures and figurines for transport; we also provide partial and full packing and unpacking services as an option.
Many artists are moving in and out of these places in Kingston:
Getting Rid

of Extra

Stuff
Sometimes you overpack; or before you move, you decide that some items aren't going to make the trip with you. The City of Kingston offers curbside pickup for large appliances, carpeting and furniture. For smaller items, there are the following stores that accept drop-offs: