Let's Get Moving in 3 Easy Steps
Local Moving
For local moves within the same city or town, we offer affordable full-service hourly rates.
Flat Rate Moving
For local moves of more than 25 miles, we always recommend an affordable flat rate move.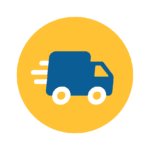 Long Distance Moving
For moves outside of New York, we offer a guaranteed price for your long distance move with delivery within 1-3 days.*
Labor Only Moving
Whether you need help unpacking your moving truck or just want someone to do the heavy lifting, save money and time with moving help from friendly, local professionals.
Whether you're moving from or to New Paltz, NY, we're the moving company for you. First of all, we are a locally-grown small business: our headquarters is in New Paltz, NY, and we know the ins and outs of moving in our community.
Your Hometown Mover of New Paltz, NY, is proud to provide residential and commercial moving service to the town of New Paltz, NY, and the surrounding communities. Your Hometown Mover is a family-owned and operated business located in New Paltz, New York, right in the heart of the beautiful Hudson River Valley. As a professionally licensed and insured local moving company, Your Hometown Mover offers high-quality, full-service moving and storage at often half the major van lines' cost. We are so committed to proving we are the best local mover in the Hudson Valley that we offer a PRICE MATCH GUARANTEE. Give us a call and tell us what we can do to earn your business!
All-inclusive New Paltz Movers
Affordable and included in every move we make:
Our full-service & labor-only moving rates are the best deal in Hudson Valley. We will assign a personal move coordinator who will work directly with you to calculate the most efficient and effective crew size for your upcoming relocation.
BEST PRICE GUARANTEE
We will beat any licensed and insured company located in the Hudson Valley.
Easy Claims Process
If there was an issue with your move, we will be there to make it right.
$49 Refundable Deposit
Book your move and secure your move date with a super low refundable deposit.
Licensed & Insured
We are licensed and insured to move your home nationwide.
200+ 5-Star Reviews
We have the most 5-star reviews of any moving company in the Hudson Valley.
A+ Rating on BBB
As a BBB Accredited Business, we are listed as a trustworthy business that operates with integrity and excellence.
Local Movers in New Paltz, NY
The name New Paltz comes from French Huguenot settlers who named the area after the Palatinate region of Germany (known as the Pfalz, in German) where they previously took refuge. The town's settlers used a dialect form of Pfalz without the "f," pronouncing it "Paltz." 
New Paltz is a village in Ulster County located in New York State's beautiful Hudson River Valley. Home to Your Hometown Mover the Hudson Valley's #1 moving and storage company. It is about 80 miles north of New York City and 70 miles south of Albany. With a population of about 7,000 people, the village is best known for its natural scenery and its educational institution. It boasts beautiful views of the Shawangunk Mountain range (home to the famous Mohonk Mountain House resort), which draws hikers, bikers, and rock climbers from all over the world, and is home to a highly rated State University of New York campus, SUNY New Paltz.
Tuesday
9:00 AM - 5:00 PM
Wednesday
9:00 AM - 5:00 PM
Thursday
9:00 AM - 5:00 PM
Saturday
9:00 AM - 5:00 PM
WELCOME HOME

- TIME TO EXPLORE
Today, New Paltz is a popular tourism destination for people visiting from New York City, New Jersey, and the surrounding Hudson River Valley (as well as a popular place to move to!). With its plethora of world-class outdoor activities, nationally recognized restaurants, and bustling college campus, New Paltz is full of energy and enthusiasm that can be enjoyed by all types of people. Your Hometown mover is based in New Paltz, so let us answer any questions you may have about moving to New Paltz or life in New Paltz!
Once you're all moved in to New Paltz, there is no shortage of exquisite eateries as the small town is densely packed with restaurants serving food from all around the world. Among the top-rated and local favorites are:
A Tavola Trattoria, authentic Italian fare in a rustic setting, using locally sourced ingredients and boasting numerous awards including "Best restaurant in the Hudson Valley" for two years in a row. 46 Main St, New Paltz, NY 12561, (845) 255-1426 http://www.atavolany.com
Main Course Marketplace, a modern, farm-to-table restaurant staffed with top chefs serves creative dishes made with only the best local ingredients. Everything from a create-your-own-salad option to an extensive array of desserts, and everything in between is offered, making this a go-to spot for lunch or dinner on any day. 175 Main St, New Paltz, NY 12561, (845) 255-2600 https://www.maincoursecatering.com
Main Street Bistro, THE breakfast and brunch spot in New Paltz. Its casual atmosphere, friendly staff, and eclectic American food make it the premier choice for diners who live local or are visiting just for a day. 59 Main St, New Paltz, NY 12561, (845) 255-7766 https://mainstreetbistro.com/
BEST

HOME IMPROVEMENT

IN TOWN
Finding a home improvement store in or near New Paltz is easy:
True Value of New Paltz, 4 Cherry Hill Rd, New Paltz, NY 12561, (845) 255-8481 https://www.truevalue.com
Lowe's Home Improvement, 650 NY-299, Highland, NY 12528, (845) 834-5000 https://www.lowes.com/ 
Clarkson's Appliances, 249 NY-32, New Paltz, NY 12561, (845) 255-1111 https://www.clarksonsappliance.com/
BEST

OUTDOOR ATTRACTIONS

IN TOWN
The New Paltz area is home to the top outdoor attractions of New York's Hudson River Valley, not limited to but including: 
The two land preserves on the Shawangunk Mountain ridge which provide world-class experiences in almost every outdoor activity including hiking, biking, running, rock-climbing, bouldering, scuba-diving, swimming, boating, horseback riding, and picnicking.
Mohonk Preserve, ~6 miles from downtown New Paltz, 3197 Route 44 55, Gardiner, NY 12525, (845) 255-0919 https://www.mohonkpreserve.org
Minnewaska State Park Preserve, ~9 miles from downtown New Paltz, 5281 Route 44-55, Kerhonkson, NY 12446, (845) 255-0752 https://parks.ny.gov/parks/minnewaska
The Wallkill Valley Rail Trail, a 24-mile linear park converted from the old Wallkill Valley railroad corridor, provides a scenic path to walk, jog, run, bike, cross-country ski, or horseback ride on. It runs from Gardiner, through New Paltz, Rosendale, and Ulster, to the city of Kingston. The park is open daily, year-round, from dawn until dusk, and free of charge. https://wallkillvalleylt.org
BEST

ART ESTABLISHMENTS

IN TOWN
A move to New Paltz wouldn't be complete without checking out some of the many art establishments showcasing local, national, and international talent across a wide range of mediums and formats. 
DENIZEN Theatre, an intimate and professional black box performance space for live theatre, 10 Main St Suite 501, New Paltz, NY 12561, (845) 303-4136 https://www.denizentheatre.com/
Dorsky Museum – The Samuel Dorsky Museum of Art at SUNY New Paltz, offers multi-medium displays by student artists, local artists, and world-renowned artists, State University of New York at New Paltz, 1 Hawk Drive (75 S. Manheim Boulevard for GPS), New Paltz, NY 12561, (845) 257-3844 https://www.newpaltz.edu/museum/
CronARTUSA, an art and design studio showing the visual works of local artist Ryan Cronin, 10 Main St, Water Street Market, New Paltz, NY 12561, (845) 430-8470 https://www.cronartusa.com/
BEST

PLACE TO DONATE

IN TOWN
So you're all moved in to New Paltz, need to get rid of extra stuff, but don't want to see it end up in the trash… well you're in luck because there are multiple places in the town of New Paltz at which you can donate your surplus items that you don't want to move with!
Family of New Paltz (run by Family of Woodstock), is a local nonprofit providing various areas of support to the immediate community, and accepts clothing, furniture, and even vehicles. 51 North Chestnut St, New Paltz, NY 12561, (845) 255-7957 https://www.familyofwoodstockinc.org/donate/
The Salvation Army Family Store and Donation Center, 61 N Chestnut St, New Paltz, NY 12561, (845) 256-9475 https://satruck.org/
Twice Blessed non-profit thrift shop whose proceeds go to local theatre groups, charities, and mission projects, Reformed Church of New Paltz, 92 Huguenot Street, New Paltz, NY 12561, (845)-255-6340 https://www.reformedchurchofnewpaltz.org/twice-blessed.html
BEST

FOOD & CONVENIENCE STORES

IN TOWN
If you're thinking about moving to New Paltz but worried that you'll be leaving behind the convenience of your current town or city, worry not! New Paltz has plenty of stores that are open 24/7. These food/convenience stores in the town of New Paltz also carry various moving- and packing-related materials like tape, scissors, markers, etc.
Convenient Deli offering hot food bar, salad bar, cold meals, sandwiches, coffee, pastries, grocery items, and more, 186 Main St, New Paltz, NY 12561, (845) 256-6542 https://convenientdeli.com/
Tops Friendly Markets supermarket, 271 Main St, New Paltz, NY 12561, (845) 256-0121 https://www.topsmarkets.com/StoreLocator
Mobil gas station, 3 N Chestnut St, New Paltz, NY 12561, (845) 255-5900
BEST

APARTMENT COMPLEXES

IN TOWN
As New Paltz's general popularity and student body is growing, there are many new and soon-to-be developed apartment and development complexes. Some of the current popular ones are:
New Paltz Gardens, 21 Colonial Dr, New Paltz, NY 12561, (845) 255-6171 https://www.newpaltz-gardens.com/
Paltz Commons, 144 Main St, New Paltz, NY 12561, (845) 389-3321 
Village Arms, RR 32, New Paltz, NY 12561, (845) 895-8122; (845) 255-9102