Let's Get Moving in 3 Easy Steps
Local Moving
For local moves within the same city or town, we offer affordable full-service hourly rates.
Flat Rate Moving
For local moves of more than 25 miles, we always recommend an affordable flat rate move.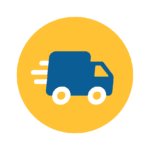 Long Distance Moving
For moves outside of New York, we offer a guaranteed price for your long distance move with delivery within 1-3 days.*
Labor Only Moving
Whether you need help unpacking your moving truck or just want someone to do the heavy lifting, save money and time with moving help from friendly, local professionals.
Wappingers Falls Moving Company
All-inclusive Wappingers Falls Movers
BEST PRICE GUARANTEE
We will beat any licensed and insured company located in the Hudson Valley.
Easy Claims Process
If there was an issue with your move, we will be there to make it right.
$49 Refundable Deposit
Book your move and secure your move date with a super low refundable deposit.
Licensed & Insured
We are licensed and insured to move your home nationwide.
200+ 5-Star Reviews
We have the most 5-star reviews of any moving company in the Hudson Valley.
A+ Rating on BBB
As a BBB Accredited Business, we are listed as a trustworthy business that operates with integrity and excellence.
Local Movers in Wappingers Falls, NY
At Your Hometown Mover, we firmly believe that good moving services entail more than just providing the muscle. If you want to hire a moving company in Wappingers Falls, NY, you should partner with a business that cares about doing things the right way from start to finish. We're a family-owned operation with years of moving experience. We got into this business to offer customers an affordable way to move without having to hire just anyone. We charge less than the national van lines, and we offer more personalized and attentive service.
Wappingers Falls is a one-square mile village in Dutchess County, and there's also the surrounding town of Wappinger, which is about 28 square miles in size. We know Wappingers Falls and Wappinger; our business is located about 20 miles away in New Paltz, NY, and we've been moving people all over the Hudson Valley for years with great success. 90 acres of Wappingers Falls is known as the village's historic district, which includes many older buildings that date back to the 1800s. The Town of Wappinger includes hamlets like Chelsea, Hughsonville, Middlebush, Myers Corners, New Hackensack and Swartwoutville. Wappinger can be accessed by roads like Route 9, Route 9D, State Route 82 and NY 376, and there's also the Hudson Valley Regional Airport in the hamlet of New Hackensack.
In addition to comprehensive moving services, we also offer affordable storage in Wappingers Falls, NY. This includes both short-term and long-term storage in safe, climate-controlled vaults at our main facility. This is a convenient option when your move-out and move-in dates don't quite align.
Whether you need residential or commercial moving services in Wappingers Falls, Your Hometown Mover is here to help. We don't cut corners, and we consistently maintain high ethical standards at every step. Contact us today to get a quote for the best movers in Wappingers Falls, NY.
Tuesday
9:00 AM - 5:00 PM
Wednesday
9:00 AM - 5:00 PM
Thursday
9:00 AM - 5:00 PM
Saturday
9:00 AM - 5:00 PM
How Should

You Get

Ready for Your Move?
As you prepare for your move, you're going to need at least a few things:
There are a few places to obtain these critical supplies in the Wappingers area:
Or we could just do it for you. We offer partial and full packing and unpacking services as part of our moving packages.
Getting Rid

of Extra

Stuff
Moving can sometimes be a good opportunity to purge away from having too much stuff. Many people get rid of items before or after they move.
The Town of Wappinger has bulk pickup/roadside cleanup opportunities for metal and non-metal items and household appliances. If you're looking to part with smaller items, the following stores accept drop-offs: