Let's Get Moving in 3 Easy Steps
Local Moving
For local moves within the same city or town, we offer affordable full-service hourly rates.
Flat Rate Moving
For local moves of more than 25 miles, we always recommend an affordable flat rate move.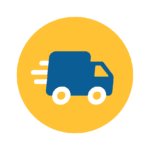 Long Distance Moving
For moves outside of New York, we offer a guaranteed price for your long distance move with delivery within 1-3 days.*
Labor Only Moving
Whether you need help unpacking your moving truck or just want someone to do the heavy lifting, save money and time with moving help from friendly, local professionals.
Professional Moving Services in Brooklyn, New York
All-inclusive New York City Movers
Affordable and included in every move we make:
Our full-service & labor-only moving rates are the best deal in Brooklyn and the surrounding boroughs. We will assign a personal move coordinator who will work directly with you to calculate the most efficient and effective crew size for your upcoming relocation.
BEST PRICE GUARANTEE
We will beat any licensed and insured company located in NYC.
Easy Claims Process
If there is an issue with your move, we will be there to make it right.
$49 Refundable Deposit
Book your move and secure your move date with a low, refundable deposit.
Licensed & Insured
We are licensed and insured to move your household goods nationwide.
200+ 5-Star Reviews
We have the most 5-star reviews of any moving company in the Hudson Valley.
A+ Rating on BBB
As a BBB Accredited Business, we operate with integrity and excellence.
If you're in Brooklyn and need professional moving services that come with the works for a fair price, look no further than Your Hometown Mover. We're going to do everything in our power to ensure your move is a smooth transition so that you don't have to worry about all the minute details. We provide some of the most expansive New York moving options out there, and we can complete moves both locally and long-distance. Not to mention, we offer our long-distance moving at a nice flat rate, so you'll know exactly what to expect price-wise when you create an estimate or get a quote from us.
Along with the business side of our company, we also want each of our customers in Brooklyn and elsewhere to realize we care about their livelihoods. We'll treat each of your household items or pieces of commercial equipment with the utmost care while packing, unpacking, or transporting. And that's the Your Hometown Mover core value we present with every job.
We are a professional moving services provider with an experienced team that has been doing this for years. So, whether you need New York moving options in Brooklyn or in our south Florida locations, we'll make sure to do the job right the first time. If we're going to claim that we provide professional moving services, we're going to not only meet those marks from a business standpoint but also in the eyes of all our customers. If you have any questions, comments, or concerns about our New York moving options, please don't hesitate to reach out, whether it's through a phone call, via email, or even walking into one of our stores if you're in the area. We are here to help throughout every portion of your move, and that includes before we even settle on the job.
Tuesday
9:00 AM - 5:00 PM
Wednesday
9:00 AM - 5:00 PM
Thursday
9:00 AM - 5:00 PM
Saturday
9:00 AM - 5:00 PM
NYC Neighborhoods we serve: