Let's Get Moving in 3 Easy Steps
Local Moving
For local moves within the same city or town, we offer affordable full-service hourly rates.
Flat Rate Moving
For local moves of more than 25 miles, we always recommend an affordable flat rate move.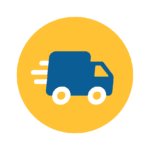 Long Distance Moving
For moves outside of New York, we offer a guaranteed price for your long distance move with delivery within 1-3 days.*
Labor Only Moving
Whether you need help unpacking your moving truck or just want someone to do the heavy lifting, save money and time with moving help from friendly, local professionals.
Your Hometown Mover of Newburgh, NY, is proud to provide residential and commercial moving service to the city of Newburgh, NY, and the surrounding communities. We always aim to provide the most comprehensive service so that we leave no stone unturned as you prep for your big move. We're more than just a couple of guys and a truck—we're moving experts with years of experience facilitating moves of all sizes. Plus, our quality services often cost half of what the major van lines charge, and we stand by that assertion by offering a Price Match Guarantee. As a professionally licensed and insured moving company in Newburgh, NY, you can trust our experienced team to take care of everything. Give us a call to see why we're the best movers you'll find in Newburgh!
All-inclusive Newburgh Movers
BEST PRICE GUARANTEE
We will beat any licensed and insured company located in the Hudson Valley.
Easy Claims Process
If there was an issue with your move, we will be there to make it right.
$49 Refundable Deposit
Book your move and secure your move date with a super low refundable deposit.
Licensed & Insured
We are licensed and insured to move your home nationwide.
200+ 5-Star Reviews
We have the most 5-star reviews of any moving company in the Hudson Valley.
A+ Rating on BBB
As a BBB Accredited Business, we are listed as a trustworthy business that operates with integrity and excellence.
Local Movers in Newburgh, NY
Newburgh is both a city and a town located in Orange County, in New York's Hudson Valley. It's about 60 miles north of New York City, and 90 miles south of Albany. If you're reading this, you're planning a move either from or to Newburgh. We've got you covered: we're a locally-grown moving company with headquarters 23 miles away, in New Paltz (one stop north on the NYS Thruway). We know the ins and outs and of moving in this region. 
Moving can be a stressful experience, but nothing eases your anxiety more than having trustworthy movers. We're passionate about what we do, and we're eager to earn your business. Whether you're planning a residential move or a commercial office relocation, you won't have to worry about a thing with us on your team. If you want the best that New York has to offer, let us be your moving company in Newburgh. Call today to get a quote or discuss our comprehensive moving services. 
Tuesday
9:00 AM - 5:00 PM
Wednesday
9:00 AM - 5:00 PM
Thursday
9:00 AM - 5:00 PM
Saturday
9:00 AM - 5:00 PM
Which Part of Newburgh Are You Moving To or From?
Between the city and town, Newburgh stretches over fifty square miles.
The city's main thoroughfare is called Broadway; it connects the larger Town of Newburgh (and highways like Thruway/I-87, I-84 and Stewart International Airport) to the city, passing by shopfronts and civic buildings to Newburgh's Downtown, Waterfront Gateway, and Planned Waterfront District.
In the Town of Newburgh, neighborhoods and communities include Amber Fields, Balmville, Brighton Green, Candlestick Hill, Cedar Cliff, Cronomer Valley, Danskammer Point, East Coldenham, Fostertown, Gardnertown, Gidneytown, Meadow Hill, Orange Lake, Sherwood Forest, Union Grove, and Wedgewood Park.
Newburgh has easy access to the Thruway, I-84, Stewart International Airport, the Newburgh-Beacon Bridge, and Routes 9W and 32.
How Should You

Get Ready

for Your Move?
As you prepare for your move, you're going to need at least a few things:
There are a few places to obtain these critical supplies in the Newburgh area:
Or we could just do it for you. We offer partial and full packing and unpacking services as part of our moving packages.
Newburgh is revered as a hidden gem by artists and art appreciators. The city is part of the Art Along the Hudson program, is participating in an innovative Artist in Vacancy land bank program, and has "Last Saturday" art events throughout the community.
If you're transporting an art collection, or you're an artist on a budget looking to move safely, we have some tips on our site on how to pack paintings, prints, sculptures and figurines for a move; we also offer partial and full packing and unpacking services as an option.
Many artists are moving in and out of these places in Newburgh:
Getting Rid

of Extra

Stuff
Sometimes, your eyes are bigger than your apartment is, and you overpack; or before moving out, you realize that you can't take everything with you.
The City of Newburgh has bulk/curb pickup for metal items, large furniture appliances, and more. For smaller items, there are the following stores that accept drop-offs: