Let's Get Moving in 3 Easy Steps
Local Moving
For local moves within the same city or town, we offer affordable full-service hourly rates.
Flat Rate Moving
For local moves of more than 25 miles, we always recommend an affordable flat rate move.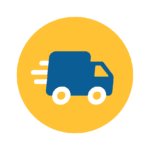 Long Distance Moving
For moves outside of New York, we offer a guaranteed price for your long distance move with delivery within 1-3 days.*
Labor Only Moving
Whether you need help unpacking your moving truck or just want someone to do the heavy lifting, save money and time with moving help from friendly, local professionals.
Professional Moving Services in Westchester, New York
All-inclusive Westchester Movers
Affordable and included in every move we make:
Our full-service & labor-only moving rates are the best deal in Hudson Valley. We will assign a personal move coordinator who will work directly with you to calculate the most efficient and effective crew size for your upcoming relocation.
BEST PRICE GUARANTEE
We will beat any licensed and insured company located in the Hudson Valley.
Easy Claims Process
If there was an issue with your move, we will be there to make it right.
$49 Refundable Deposit
Book your move and secure your move date with a super low refundable deposit.
Licensed & Insured
We are licensed and insured to move your home nationwide.
200+ 5-Star Reviews
We have the most 5-star reviews of any moving company in the Hudson Valley.
A+ Rating on BBB
As a BBB Accredited Business, we are listed as a trustworthy business that operates with integrity and excellence.
Local Movers in Westchester, NY
If you're in Westchester, New York, and looking for a professional moving services company that's going to put you and your household items first, then you've come to the right place. At Your Hometown Mover, we provide New York moving services that include short- to long-distance travel and even storage options if it's going to take some time to fully complete your move.
The name of our business is making moves stress free. We want you to hire us with confidence in knowing that we're going to look after your household goods as if they were our very own items. We aren't just a team of workers—we're a group of experienced individuals who have been doing this for years. We know the ins and outs of transporting materials safely and unpacking them quickly and cautiously so that you can start your journey in your new location.
The wonderful thing about our New York moving options that we provide for places such as Westchester is that our prices are typically around half the typical fees of other standard moving groups in the area. We want you to get a good deal with quality service attached to it. Getting professional moving services shouldn't be a hassle, and our goal at the end of the day is to make your move as streamlined as possible so that you don't have to experience what's typically one of the most stressful situations in life.
If you have any questions or concerns about our moving process, please don't hesitate to reach out so that we can answer your questions. And if by chance you don't have the time or you're feeling unsure, we encourage you to check out our estimation tool so that you can get an idea if we're going to be a good fit for your move right off the bat.
Tuesday
9:00 AM - 5:00 PM
Wednesday
9:00 AM - 5:00 PM
Thursday
9:00 AM - 5:00 PM
Saturday
9:00 AM - 5:00 PM